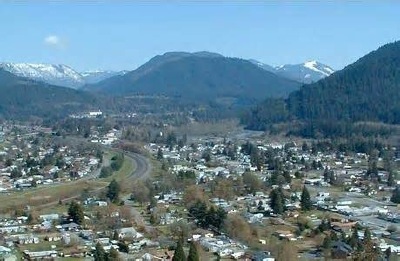 Undiscovered, unlimited, an ultimate outdoor living experience, in Oakridge you can pick a sport or activity and dive in! Bike, hike, swim, ski, boat, fish, hunt and try birding, huckleberry picking or mushroom hunting.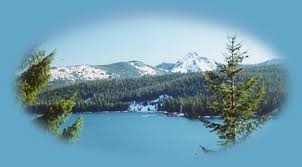 Nestled in the foothills of the Cascade Mountains, and surrounded by the Willamette National Forest, pristine rivers run through the heart of one of Oregon's most beautiful valleys. The area is rich in geologic, historic, scenic, and recreational opportunities. Those who have discovered it know they have found paradise. Head northwest for easy access to Eugene and Springfield; head southeast and enjoy the winter sports of the Willamette Pass area. Everywhere around you you'll find biking, hiking, boating, birding, hunting, fishing and just about any other form of outdoor recreation you choose. Above the Willamette Valley's notorious fog but below the snow line, the city boasts some of the best weather in Oregon. It is said that one sees the sun nearly everyday in Oakridge.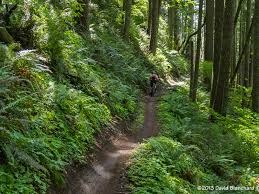 Oakridge has much to offer in Geotourism, defined as the geographic character of a place - its environment, culture, aesthetics, heritage and people. The forest is a bounty of wild flowers, berries and mushrooms. Trails wind through layers of moss to discover waterfalls. Birders will tell you that this area is unparalleled for sighting raptors of many varieties and other wildlife sightings such as elk and deer, are common. In a place steeped with the history of living in the forests that surround Oakridge, the community celebrates it in their festivals, art and everyday living.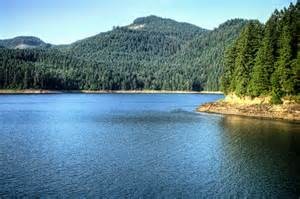 Some of the finest fishing in Oregon can be found in the forests surrounding us. Brown and rainbow trout, croppies, salmon, and catfish can be caught, depending on the season. The Willamette River and Salmon Creek provide relaxing locations for river fly fishing. If you prefer dipping your line in a lake, you'll find many in the area that will entice you. At the crest of the Cascades, Odell Lake is a fisherman's paradise with mackinaw reaching over 30 pounds and kokanee salmon over 20 inches. Surrounded by the lush Willamette National Forest, hunting is plentiful whether it be with a rifle or a bow. The area sports not only a large elk and deer population, but also bear and cougar.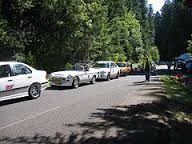 There are many ways to explore the beauty in this area. One way is from the comfort of your vehicle, but be prepared for some rough patches! There are hundreds of miles of paved and graveled forest roads to explore winding creeks and awe inspiring vistas. For those looking for a little more speed, Emerald Empire Sports Car Club sponsors the Larison Rock Hill Climb on a closed asphalt Forest Service road in July. The course is 1.9 miles, rising 1000 feet, around 23 curves. No two turns are quite the same on this challenging course. For those looking more time to enjoy the scenery, please see the Scenic Byways section. Looking to get a little dirty? The nearby Huckleberry flats OHV area provides over 30 miles of loop trails in 11 square miles of the densely forested Willamette National Forest. This free use trail area (with an Oregon OHV permit) is well signed and open to both motorcycles and ATVs. This system is closed to Class II motorized vehicles, bicycles, horses and hiker use.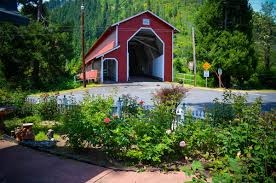 The Aufderheide National Scenic Byway was named after and dedicated to the memory of Robert Aufderheide, a Willamette National Forest Supervisor. It winds through the lush undergrowth of the majestic Willamette National Forest and meanders along the cold, clear water of the North Fork of the Middle Fork of the Willamette River and the South Fork of the McKenzie River. As well as scenic vistas, the drive also provides opportunities to explore and understand the environment. The Aufderheide is part of the 220 mile West Cascades Scenic Byway that runs north to south, skirting the northern half of Oregon's Cascade Mountain Range from Oakridge to Estacada. To reach Aufderheide Drive from the Eugene-Springfield area exit Highway 58 at the Westfir turnoff, turn left after the green bridge, continue 2 miles to the covered bridge, then continue straight ahead on Forest Service Road 19 (Aufderheide Scenic Drive).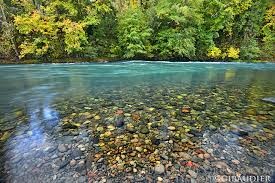 Oakridge lies at the confluence of five rivers that cut through the surrounding mountains, making an excellent spot for those who want to get their feet wet. Whether you travel by kayak, raft or simple inner-tube, there is always a place to cool off in the warm summer months. Hills Creek Reservoir and Crescent Lake provide excellent access to water-skiing. Waldo Lake lies near the crest of the Cascades at an elevation of 5,414 feet. About 33 miles east of Oakridge, Waldo Lake is one of the purest lakes in the world and the second largest lake in Oregon. In its crystal-clear and exceptionally blue waters visitors can see to the depths of over 100 feet (30 m) on a calm day. The non-motorized waters have become a favorite for sailboats, canoes and kayaks. Downstream the North Fork of the Middle Fork of the Willamette River has been designated as a Wild and Scenic River. In the summer months, the river's clean clear waters invites people to visit its many swimming holes.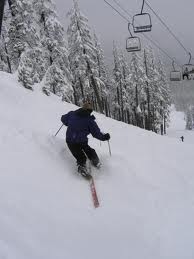 Whether you prefer downhill skiing, snowboarding, sledding, cross-country skiing, or snow-shoeing, Oakridge is the perfect place for winter sport enthusiasts. Willamette Pass Resort ski area, just 27 miles east of Oakridge on Highway 58, provides a full service resort with a small town feel. Ride up five ski lifts, including a high-speed, six passenger lift that takes you to the 6,683 foot summit in five minutes to unleash 555 acres of skiable terrain. In addition to downhill runs, Willamette Pass offers over 12 miles of cross-country trails groomed for both track and skate skiing through rolling terrain. Marked cross-country ski trails and snowmobile trails are located on National Forest land. The Forest Service and National Ski Patrol volunteers operate a cabin at Gold Lake Sno-Park where visitors can warm themselves and gather ski information. There are several shelters in the area managed by the Forest Service that may be used for picnics or overnight camping. Diamond Peak Wilderness offers secluded back-country adventures for the mountaineer and experienced skier. This 8,744 foot peak in the Oregon Cascades offers some the best in off-resort downhill skiing.